Research Report

Recently we developed a research with the scientific direction of Prof . Maurizio Memo, University of Brescia  on the neuro-protective properties of PMA-Zeolite (Zeolite-Act 2 in the graphic below).
Research Partner

The research confirmed this properties and proved that a non-systemic substance crossing the intestine can reduce toxicity at the level of neuronal area response.
download: 
Neurodegeneration. Dietary zeolite supplementation reduces oxidative damage and plaque generation in the brain of an Alzheimer's disease mouse model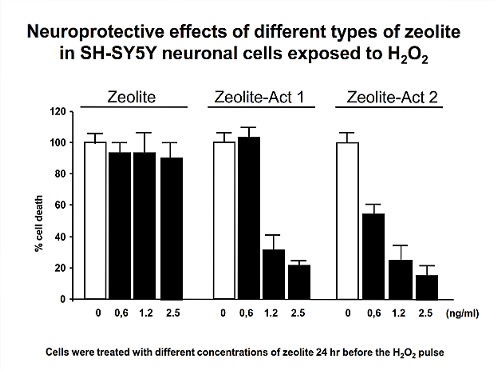 Prof. Kresimir Pavelic
Bibliography
The detoxifying potential of PMA-Zeolite:[spaces:0]
The in vitro studies performed in July 2014 at the University of Rijeka under the direction of Dr Krešimir Pavelić demonstrate that zeolites can absorb environmental contaminants such as organochlorine pesticides and heavy metals. They can thus make a substantial contribution to the detoxification of the human body.
Summary of the findings:
In an artificial gastrointestinal model, it was demonstrated that PMA-Zeolite binds heavy metals such as lead, cadmium, arsenic, chromium, and nickel as well as the residues of pesticides such as organic chlorogenic compounds originating from foodstuffs according to the physical mechanism of action. The overall stress on the gastrointestinal tract is reduced, thereby proving the selective binding or detoxification potential of PMA-Zeolite.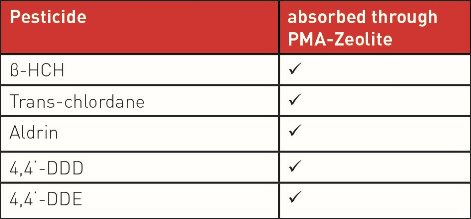 Overview of organic chlorogenic compounds 
that are absorbed by PMA-Zeolite